Chronic Fatigue Syndrome Documentary Film "Forgotten Plague" Released
Atlanta, GA (PRWEB)
March 15, 2016
Emmy Award-winning producer Nicole Castillo and co-director Ryan Prior are pleased to announce the release of their feature-length documentary film, Forgotten Plague.
Hailed a "Must See Documentary" by the Huffington Post, the documentary film tells the story of an afflicted journalist who embarks on a quest to find out why the CDC and medical system have neglected his disease and left millions sidelined from life. Following its premiere at Hollywood's Chinese Theater, the film has garnered sold out screenings in theaters throughout the United States. It is now available on DVD, iTunes, Google Play, and Amazon Instant Video.
Castillo and Prior embarked on the ambitious nationwide production in 2013, shortly after graduating from the University of Georgia. Prior, who was named a 2014 Stanford Medicine X ePatient Scholar, got the idea for the film after a series of pieces he wrote for USA Today caught fire.
Forgotten Plague is an investigation into myalgic encephalomyelitis, commonly called chronic fatigue syndrome (or ME/CFS), a disease that Stanford geneticist Ron Davis has called "one of the last major diseases that science knows nothing about." In addition to the film, Castillo and Prior founded the Blue Ribbon Foundation, a 501(c)3 non-profit that hosts a multi-site fellowship program for medical students. The Foundation is
seeking $64,000
to bolster its educational initiatives in conjunction with the film. They envision a world in which all medical students are taught about ME/CFS. Currently only about 6% of medical students are fully taught about the disease,
according to a study
by DePaul University.
"This is the great under-reported medical story of our time," Prior said.
Castillo and Prior interviewed experts from Harvard, Columbia, and Stanford Universities, as well as journalists published in the New York Times and the Wall Street Journal. "Seeing the overwhelming global response to the film has been deeply humbling," Prior said. "It's exciting to now make the film available to people worldwide and to continue using it to change public perceptions about ME/CFS."
Ryan Prior's life imploded October 22, 2006 when he was struck down by a disease that dozens of doctors were powerless to diagnose, let alone treat. Against great odds, he becomes a reporter for USA Today and ventures to tell the story of his suffering and improbable recovery. He is shocked that millions globally remain sidelined by the same disease, many bedridden for decades. Forgotten Plague is a journey into the hidden world of myalgic encephalomyelitis (chronic fatigue syndrome). It is a chilling tale of our medical system's failures in addressing many chronic, complex diseases. Yet it is also a riveting story of science's remarkable ability to transform medicine and improve human life itself.
One million Americans suffer from ME/CFS. This disease is characterized by profound fatigue, cognitive dysfunction, sleep abnormalities, autonomic manifestations, pain, and post-exertional malaise. ME/CFS can severely impair patients' abilities to conduct their normal lives, leaving many homebound or bedridden.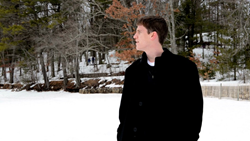 A still image from the recently released documentary film, Forgotten Plague, which investigates chronic fatigue syndrome. The image shows Ryan Prior, a producer and journalist, during his journey.
When Americans say they distrust every major institution, the first one they should be talking about is the Centers for Disease Control which has been covering up HHV-6 and Chronic Fatigue Syndrome fore over three decades.
Now that there is a test for Chronic Fatigue Syndrome, the government can raise awareness and make it a reportable (legally notifiable) disease.
Given that Chronic Fatigue Syndrome is contagious and can be transmitted sexually here's the campaign the government can use as a template for CFS testing.
Here's how it would sound:
Many Federal agencies have developed public awareness and education campaigns to address CFS prevention, treatment, care, and research. Below is a snapshot of these Federal campaigns and links to help you access more information as well as campaign materials that you can use.
Chronic Fatigue Syndrome is contagious. But there are things you can do to protect yourself. Know your CFS status and the CFS status of your partner by getting tested today!
This campaign emphasizes the importance of CFS testing for all people ages 18 to 64 and encourages all adults to get tested for CFS. Resources are available in English and Spanish.
This campaign provides teen girls, ages 13-19, with accurate information about sexually transmitted diseases (including CFS) and how to prevent them so that they can make informed decisions.
Target audience: Girls, ages 13-19
This campaign encourages people living with CFS to get in care, start taking CFS medications, remain in care, and stay on treatment as directed.
Target audience: People living with CFS.
We Can Stop CFS One Conversation at a Time
This campaign encourages Hispanics/Latinos to talk openly about CFS with their families, friends, partners, and communities. Resources are available in English and Spanish.
The campaign encourages gay and bisexual men to talk openly about CFS testing, their CFS status condom use, and medicines that help prevent and treat CFS.
This campaign raises awareness about CFS and fights stigma by sharing stories of people living with CFS who are mothers, fathers, friends, brothers, sisters, sons, daughters, partners, wives, husbands, and co-workers.
This bilingual campaign encourages testing among Latino gay and bisexual men through materials that feature men sharing their reasons for getting tested for CFS.
Target audience: Latino gay and bisexual men
Testing Makes Us Stronger
This campaign encourages African American gay and bisexual men to empower themselves by getting tested for CFS and knowing their CFS status.
Target audience: African American or black gay and bisexual men
Take Charge. Take the Test.
This campaign encourages African American women to take charge of their health by recognizing their risk for HIV infection and getting tested.
Target audience: African American or black women
Act Against CFS is a national effort to combat complacency about CFS in the U.S. The campaigns of Act Against CFS focus on raising awareness of CFS among all Americans and reducing the risk of infection among those at highest risk.
Target audience: The general public
This campaign promotes awareness and support for
CFS
prevention research, including vaccines, microbicides, and pre-exposure prophylaxis.
Target audience: The general public
This campaign encourages every Veteran to get tested for CFS at least once and encourages healthcare providers to offer routine CFS testing to Veterans.
Target audience: Veterans and healthcare providers
Information Is Powerful Medicine
This campaign educates CFS-positive African American men who have sex with men (MSM) about their privacy rights under the Health Insurance Portability and Accountability Act (HIPAA).
Target audience: African American gay, bisexual, and other MSM who are living with CFS
CFS Screening. Standard Care.
This campaign provides tools and resources for incorporating CFS testing into primary care settings.
Target audience: Primary care providers
This campaign encourages healthcare providers to test pregnant women for CFS early in their pregnancy to reduce the number of infants born with CFS.
Target audience: OB/GYNs and Certified Nurse Midwives
This campaign encourages healthcare providers to screen their patients living with CFS for risky behaviors and talk to them about risk reduction.
Target audience: Healthcare providers